French doors are custom made for Irish homes. French Doors with openings to allow ventilation to the room when the doors are closed. This door offers many options. The French Doors seen above can be designed with or without Neo-Georgian. It is an ideal arrangement to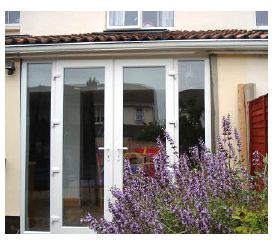 compliment any room leading on to a garden or patio area. The door can be manufactured in White, Light Oak, Mahogany and other colours.
Weatherglaze Designs will carry out all construction work removing the need to get a builder. All windows and frames are energy rated thus improving the insulation value of your home. French doors can be manufactured with side windows to allow ventilation for when the door is closed. This is an ideal replacement for any window at ground floor level. French doors with georgian inserts, very popular choice. Increases the value of any home and does not cost a fortune.
French Doors with Style
Originating in France - where else? - french doors proved to be a popular way to combine a window with access to a balcony. By the end of the 17th century, french doors had spread across the continent and had arrived in England. Their beautiful frames and plate glass hearkened back to Renaissance ideals of interplaying light and geometry, and even today french doors carry with them a sense of refinement and history. The basic design of french doors can include one or two doors, opening inwards or outwards. Due to the risk of access by burglars, modern french doors feature elaborate security systems to ensure peace of mind. A panel at the bottom of the door-frame prevents the entry of water.
The glass can be single or double glazed, using energy saving glass to reduce heat loss in winter while letting the sun shine through in summer. Safety glass ensures the glass will not shatter if an accident occurs. Some french doors make use of a single pane of glass - others use a multitude of individual glass windows, known as "lights." These panes can either be plate glass or decorated in a variety of lead patterns with squares, diamonds and octagons, allowing a great deal of customisation. You can also pick custom handles in various finishes and choose a colour for the frame to achieve your dream look.
Secure French Doors
French door frames were originally made of wood, but more recently aluminium and PVC french doors have become popular. Today, PVC french doors are valued for their range of colours and textures - such as white, oak, rosewood, and woodgrain - and for their energy-saving properties. They are also easy to clean and maintain, do not require repainting, and will never warp, rot or rust. PVC french doors feature great insulation to keep heat in and noise out, and offer better value compared to other materials.
Today, french doors can be used as access for patios, gardens and conservatories, or else fulfill their original purpose as balcony doors. With no central pillar, they provide easy access in and out of a room - whether you're strolling effortlessly straight out into your garden or bringing a bulky sofa or armchair into your living room. They transform your house during garden parties or barbeques, allowing guests to swap between the party indoors or the barbeque on the patio. Compared to standard sliding doors, french doors offer a touch of class and Renaissance beauty to any home.
French doors can make an amazing addition to your home, whether installed internally or externally. Inside, they can help transform the way you use your house, letting you effortlessly turn two rooms into one - and back again. External french doors, meanwhile, turn your garden into an extension of your living room, kitchen, or dining room, bringing the outdoors indoors. Wherever you place them - whether aluminium or PVC french doors - you'll find a sense of openness and beauty from the full-length glass.